Our Mission Statement:
To work with our clients and the community to inform, to educate and to provide all companion animals with quality care in a low-stress, family environment.
Our History:
The Patton Veterinary Hospital has been serving the community of Red Lion. The animal hospital, once called The Red Lion Animal Hospital, was started by Dr. Clark Maust in 1916. It was a small practice that began as a single room attached to his garage on Pleasant View Street in Red Lion. Initially, Dr. Maust serviced only large animals. In 1959 he expanded the practice to include a waiting room, one exam room and kennels.
In 1961, Dr. Don Patton bought the practice from Dr. Maust. In 1971, Dr. Patton expanded the practice to include two exam rooms, a surgery room, a pet store, treatment and laboratory area, reception area, and an x-ray room. This was the physical layout of the hospital right up until the move to our current location.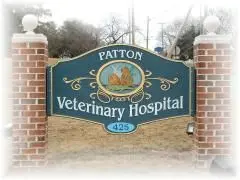 Around 1980, Dr. Patton changed the name of the practice to The Patton Veterinary Hospital. He called it The Patton Veterinary Hospital, only partially because he wanted it named after him. At the same time, his family owned a gift shop in what is now the Red Lion Karate building in the square of Red Lion. His father also owned Murphy's 5 and 10 cent store in the building that currently houses Murphy's Auto Parts. By naming his hospital The Patton Veterinary Hospital, Dr. Patton felt he would maintain the family feeling of the community. The Patton Veterinary Hospital (at the previous location) was the oldest standing veterinary hospital still situated in it's original location in York County.
In 1989, Dr. Patton hired Dr. Douglas Schmidt as an associate. In 1993 Dr. Patton sold The Patton Veterinary Hospital to Dr. Schmidt in the hopes of retiring. Over the years a bigger hospital became a necessity. Peggy Schmidt, Dr. Schmidt's wife, was an integral part in working with the architect to design the hospital to make it the beautiful and up-to-date hospital that it is. Construction on the new hospital began in September 2002. By May 2003 we were able to move into our new home.
Although The Patton Veterinary Hospital has undergone many changes over the years, the one thing that has remained constant is the LOVE, COMPASSION, and DEDICATION the doctors and staff have for the animals in our community.
Our Core Values:

B: be there
H: honesty
E: empathy
A: accountable
R: respect
D: dedication