Laboratory Tests
Your pet may need to have blood or urine samples analyzed to determine a cause of illness or before a surgical procedure.
We are able to check urine samples in house as well as blood glucose levels, electrolytes, liver and kidney function and red and white blood counts in the hospital for quick answers or to monitor critical cases.
Feline leukemia and FIV testing as well as testing for heartworm disease, Lyme disease and Ehrlichia and Anaplasma can also be performed as quick tableside tests at our hospital with results in about 10 minutes.
More advanced testing such as monitoring therapeutic blood levels, checking thyroid function or performing testing for endocrine diseases like Cushings disease are also available and samples are sent to external laboratories for analysis. Results are generally available within 1 to 3 days.
Fecal samples are also checked for parasites at Antech diagnostics.
Radiology and Ultrasounds
Patton Veterinary Hospital offers digital radiographs (x-rays) and ultrasounds to examine pets for fractures, tumors, heart or lung disease, intestinal foreign bodies and many other conditions. We also have the capability to electronically send a radiograph or ultrasound to a board certified radiologist for interpretation if needed.
Blocked Cats
Male cats sometimes form crystals in their urine which can lead to a plug in the urethra and inability to urinate. This is a life threatening problem which can cause kidney failure and death if not treated as an emergency. Patton Veterinary Hospital does offer hospitalization and relief of the urinary obstruction by placement of an indwelling urinary catheter. The catheter is left in place for 24-48hrs and the cat is usually hospitalized for 2-3 days.
Nutritional counseling and after-care instructions are a big part of preventing this condition from re-occurring and we want to make sure that your male cat stays healthy. However, some patients have multiple episodes of urinary blockage and may ultimately require a type of surgery called a perineal urethrostomy or "PU" for short to create a wider urethral opening more like a female's anatomy to reduce the chance of a crystalline plug from forming. Our doctors are able to perform this surgery should it be necessary.
OFA Certification / Penn Hip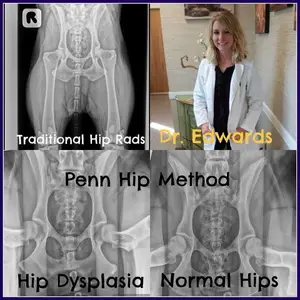 OFA Certification: The Orthopedic Foundation for Animals (OFA) will evaluate radiographs (x-rays) of hips or elbows in order to certify breeding animals as free of hip or elbow dysplasia. This is helpful for preventing these conditions in dogs as those with moderate to severely affected joints should not be used for breeding. At PVH we are able to sedate your pet, obtain the necessary films, then transfer them to OFA for analysis.
The Penn HIP screening is a set of three x-rays of the hips performed under heavy sedation or anesthesia that can assess dogs as young as 16 weeks old for signs of hip dysplasia. This process has been scientifically shown to be one of the best ways to assess dogs for hip dysplasia and has a great deal of interest from many breed organizations. The three x-ray views include a standard hip view to examine for osteoarthritis, a compressed view to assess hip joint quality of fit, and a distracted view to measure the degree of joint laxity (looseness). To perform Penn HIP, a veterinarian must become certified, which requires coursework as well as technical training in the specific radiographic technique. Here at Patton Veterinary Hospital, Dr. Stephanie Edwards has completed her Penn HIP certification and would love to evaluate your pet. Read More
Ear Cleaning and Packing
Ear infections are a common problem in dogs and cats, and are not always due to ear mites. Sometimes, a deep ear flush under sedation to remove fluid, wax and debris from the ear canal is needed in some cases of severe ear infection.
We also offer a medical treatment known as an ear "packing" in which a thick medicated paste is applied to the ear canal. Use of this treatment penetrates deep into the ear to reach the source of infection and eliminates the need to clean and put ear drops into the pet's ears at home making it much more convenient for our clients.
Ophthalmic Procedures
Patton Veterinary Hospital offers a variety of tests and surgical procedures to evaluate your pet's eyes. Checking eye pressures to evaluate for glaucoma, staining the cornea to look for scratches or ulcers, and measuring tear production are common tests that may be performed. We can also perform cherry eye repairs, corneal debridement (removing the outer layer of abnormal cornea) or grid keratotomy for non-healing corneal ulcers, and enucleation or removal of an eye that is damaged due to glaucoma, trauma or cancer.
Health Certificates

If you are traveling with your pet and using public transportation or you are traveling to another country, a health certificate will be required. We have two veterinarians that are accredited by the United States Department of Agriculture (Dr. Douglas Schmidt and Dr. Stephanie Edwards) and they may provide you with this necessary health certificate. Depending upon your travel plans, several month's preparation may be essential to ensure your pet may continue to be by your side. Contact Tiffany Ayres to assist you with these requirement or contact the USDA directly.
Anal Sac Expression
Is your dog scooting his bottom across the floor or licking under his tail or do you notice an odor around his bottom? His anal glands could be full or infected. We are able to feel and express the glands if needed.
Specialized Diagnostic Tests
We are able to do a variety of specialized testing such as tapping fluid from chest or abdomen (thoracocentesis/abdominocentesis), sterile urine collection by inserting a needle into the bladder (cystocentesis), transtracheal washes, fine needle aspirates of lumps to check for cancer and dermatologic tests such as skin scrapings to look for mites, ear cytology and tape preps or impression smears to look for bacteria or yeast on the skin.
Tattoos and Microchips
Tattoo Placement: A permanent ID number is tattooed on the inside back leg of your pet. Since this is a form of permanent identification, it can also be used to apply for a lifetime dog license.
Microchip Placement: A microchip about the size of a grain of rice is inserted between the shoulder blades of your pet. The microchip has a bar code that is entered into a national database. If any animal control officer, humane society, or veterinary hospital finds your lost pet, they can scan between the shoulder blades and insert the numbers into the national database to provide an easy return of your pet to you. As with the tattoo, you can apply for a lifetime dog license after the microchip placement. Link to national data base.
Kids Room
We know that sometimes you can't leave the kids at home when you bring your pet for an appointment. That's why we created a Playroom. The Playroom has windows on either side so you can keep an eye on the little ones during your appointment. While small, it's full of toys, games, puzzles and books to keep the kids occupied.
Euthanasia
Our compassionate staff will help you through the difficult process of euthanasia each step of the way. From the time you make the decision, to the appointment itself, to how to handle the aftercare, Patton Veterinary Hospital will give you as much support as you need. If you need help dealing with the loss of your pet, Patton Veterinary Hospital offers a Pet Loss Support group for adults. We meet approximately quarterly to remember and pay tribute to our beloved pets, and to share our grief. If you are interested in this group, please call the office.
The Pet Loss Support Group is lead by Dr. Elizabeth Revell. This is an informal group session giving pet parents an opportunity to share stories about their deceased pets. The session offers a safe environment for sharing and listening for those that may not be quite ready to move past their loss. The Pet Loss Support Group meets on an as need basis, approximately every other month at the Patton Veterinary Hospital. The sessions are free and open to the community but registration is required. Please call Tiffany Ayres at (717) 246-3611 or email at [email protected].
Contact us for next meeting date.