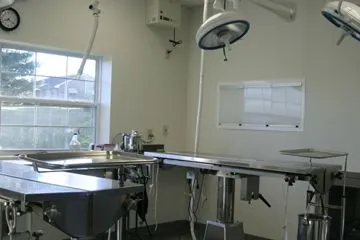 We know how stressful undergoing anesthesia can be for your pet and you. We take the utmost care for our patients and they are treated like one of our own. Surgery is performed with the highest standards of sterility and your pet's heart, lungs, blood pressure and other vital functions are monitored closely. Do not be overly concerned. With advances in diagnostics, anesthesia, monitoring and surgical techniques has enabled us to ensure your pets recovery. Pre-operative blood testing is done to ensure that there are no abnormalities that need to be corrected before anesthesia or indicate a change in anesthetic agents. Each surgical patient receives a intravenous catheter to administer medication. For our senior patients we also supply continuous intravenous fluids for support through the procedure. Patients will recover in the comfort one of our nurses until they are alert enough to be placed in recovery. We try to make it as comfortable as possible with familiar things such as blankets, 'cuddle bugs', which are safe stuffed animals, to help during the recovery process. Many enjoy them and snuggle right up. Makes for a lot of cute picture opportunities.
Is your pet coming in for surgery…
Surgery drop off times are between 7:30am – 8:00am
NO food after 8pm the evening before drop off
NO treats, NO cheating, an empty stomach is critical for anesthetic patients
Take water away 1 hour before admission
Allow he/she to empty bladder and bowels prior to admit
Other information to consider..
Please allow 5 – 10 minutes at drop off time to ensure we have the information needed to care for your pet.
When your pet is undergoing anesthesia for one procedure you should consider whether there are other procedures that also need done.
Does he/she need a teeth cleaning?
Does he/she cooperate for nail trims?
Does he/she need their ears cleaned?
Is he/she microchipped?
All these procedures can be done while they are under anesthesia.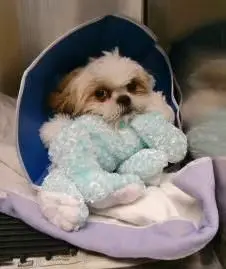 "Rusty" Owned by Barry & Carole Swartz
We have made available our discharge instructions for elective surgeries. This way you know what the recovery consists of before or after the procedure and also if you have misplaced your instructions.
Surgery Discharge Instructions
Please allow a few minutes at discharge for our nurses to discuss instructions with you and answer any questions you might have.
Feline & Canine Spay
Spay is a term used for ovariohysterectomy, removing both ovaries and the uterus. Spaying decreases the of mammary tumors, marking behavior and heat cycles. These pets will be able to go home the same day.
Feline & Canine Castration
Castration is the procedure where the testicles are removed completely, leaving only the empty scrotum. These pets will be able to go home the same day.