---
Cambrie - Animal Care Coordinator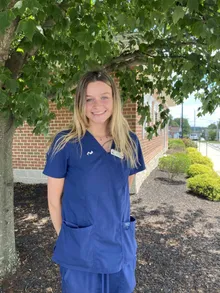 Adopted: November 2017

Hailing from Dallastown and currently a senior at Dallastown High School, Cambrie decided to join the Patton team in November 2017 because she, "plan[s] on being a veterinarian in [the] future and this is a great opportunity for experience and new friendships." Read More
---
Alexis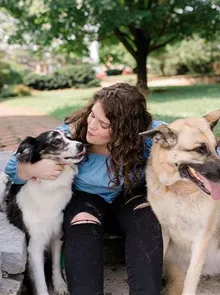 Adopted: December 2019
Alexis joined Patton Veterinary Hospital's Animal Care team in December 2019 after an internship at our hospital. A graduate of Red Lion Area High School, she wanted to work at Patton because she loves working with animals and to make a positive difference in the world.
Alexis currently has two pets—Marlin, a betta fish and Sunny the cat. She enjoys hiking and painting when not at work and aspires to learn scuba diving one day.
We are happy to have Alexis as part of the Patton team and we know she'll take good care of your pets.
---
Eryn
Adopted: July 2020

---
Hailey
Adopted: May 2021
Hailey joined Patton Veterinary Hospital's Animal Care team in May 2021. A York native, Hailey has wanted to work with animals for some time, stating she enjoys animals and loves people who love animals. She had applied for several kennel staff jobs before being hired by Patton, grateful to her Aunt Brandy who also works at Patton as a technician and who suggested Hailey for the job.
Hailey loves surrounding herself with things she loves, and, of course her pets top that list. She has two husky mix dogs, Noah, who kisses her face when she is sad, and Kiya who is "the smartest and most caring dog" she's ever had.
When not helping to keep our kennel running smoothly, Hailey enjoys kayaking, pet-sitting and watching movies with friends. Hailey aspires to visit more beaches, experience a hot air balloon ride and even to own her own dog shelter one day! She also plans to attend college working towards a future working with animals in some capacity.
Hailey's principal once told her, "You can do hard things," and this has given her the confidence to chase her dreams of a career working with animals. And, she added, "I love hearing it!"
We are so happy to have Hailey as one of our Animal Care Specialists and we hope her experience here helps her achieve her long-term goals in the field of veterinary medicine or animal sciences.