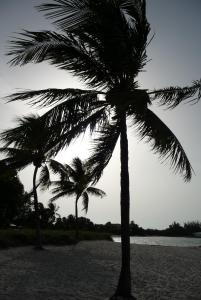 Is Coconut Oil Good for my Pet?
---
                Coconut oil has been quite the rage as a cure-all for various ailments in people for some time. Are there any health benefits to giving coconut oil to dogs and cats? The answer is…maybe. 
                Coconut oil is thought to have anti-bacterial, anti-fungal and maybe even anti-viral properties, so, using food-grade quality coconut oil on minor skin wounds, as a moisturizer for dry skin or as a protectant on pets' paws may be of some benefit.  However, if your pet has a serious skin infection, don't rely on coconut oil to clear it up—take your pet to the vet for the appropriate antibiotics or anti-fungal drugs.  Some holistic veterinarians advise that a small amount of coconut oil (1/8 to ¼ teaspoon) fed to cats a few times a week may help with hairballs in cats.  However, watch for vomiting or diarrhea and never feed coconut oil to cats or dogs who are prone to inflammation of the pancreas known as pancreatitis.
                Coconut oil is high in fat and calories, so limit use in obese pets.  It does not have the same health or skin benefits as the omega-3 and omega-6 fatty acids found in fish oil and it should not be used as the main source of fat in homemade diets as the medium chain triglycerides in coconut oil do not contain enough of these essential fatty acids.
                Some people also think coconut oil might aid in controlling illnesses like thyroid disease, dental disease, seizures and cancer protection, but, the truth is there are just no credible studies to support these benefits at this time.
                If you want to try coconut oil for your pet, start with small amounts of virgin, food grade coconut oil.  If your pet is taking it internally, start with small amounts and gradually increase the amount as long as your pet has no diarrhea.  AKC.org recommends, "To use coconut oil topically, apply it to the skin about once a week, and let it be absorbed for a few minutes. After five minutes or so, rinse your dog off. If he still feels excessively greasy or oily, you can follow up with a light shampoo and rinse. Alternatively, use a shampoo made with organic coconut oil."  You could also apply a small amount to a localized region of the skin such as a minor cut or abrasion. 
                Coconut oil is definitely not a cure-all, but it is safe to use in limited amounts in our pets and many enjoy the taste.  It should never be a substitute for good medicine, but may be a nice adjunct to treating skin problems or for some digestive issues.
                This blog brought to you by the Patton Veterinary Hospital serving York, Red Lion and the surrounding communities.
Sources:https://www.akc.org/expert-advice/health/is-coconut-oil-good-for-dogs/
https://www.petmd.com/cat/nutrition/coconut-oil-cats-it-good-idea
http://veterinarymedicine.dvm360.com/can-i-use-coconut-oil-fifi-s-fat-source?eid=357557468&bid=2307309