Mandy, Technician Coordinator

Adopted: May 2021
Mandy joined the Patton team as a technician in May 2021. Mandy is a Red Lion native and 2007 graduate of Lebanon Valley College with a BS in biology.
Mandy has two Labrador Retrievers who are littermates-Lily, a black Lab and Chubbs, a yellow Lab who love running and swimming on her farm. Mandy cites growing up on a farm with a love of animals as the reason for pursuing a career in veterinary medicine. She now has a farm of her own and is excited to share her love of animals with her children.
In her free time, Mandy can be found working on her family's or her parents' farm and growing pumpkins to sell at a roadside stand. She also enjoys gardening and being a mom. Mandy loves to travel and had an opportunity to tour parts of Europe including France, Italy and Switzerland with the Pennsylvania Ambassadors of Music in 2004, but her bucket list includes a trip to Ireland and Germany to explore her family roots.
After living and working in Lebanon County for 13 years Mandy returned to Red Lion in 2019 when an opportunity arose to buy her own farm. She says, "Finding a job closer to home to be able to be a part of the local community and be able to enjoy more time with my family was a big benefit of being able to come work at PVH." Mandy's favorite quote is one by author and Homestead blogger Kathy Bernier, "There is nothing finer than living and dreaming like a farm girl."
Though she may be a farm girl at heart, Mandy is an excellent small animal technician and we're happy she returned to Red Lion and found her way to Patton. We're so excited to have her as part of the Patton family!
---
Kacie, Inpatient Tech Supervisor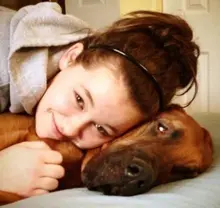 Adopted: June 2015

Number of Pets: 2 dogs, Sully and Opal
Kacie Yeakel came to the PVH family in June 2015 by a different way than most: her family members were established clients at the hospital, and that's how she first came to considering possible employment here.
"I absolutely love animals, especially dogs, and from being a client, [PVH] seemed like a really nice and professional place to be," she says. Read More
---
Jenn, Inpatient/Surgery Techs
Adopted: September 2010
A native of Lancaster County, Jennifer Gates joined the staff of PVH in August 2010. She is a graduate of both Columbia High School and Willow St Vocational Technical School, where she completed veterinary technician courses. She has been an animal lover all her life, and fondly recalls the times she spent volunteering at the Lancaster Humane League. Read More

---
Emily, Inpatient/Surgery Techs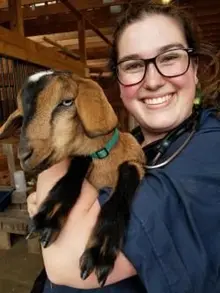 Adopted: November 2018

Emily joined the Patton Veterinary Hospital's Animal Care team in November, 2018. She is a York native and graduate of Dallastown High School. Emily spent three years at Millersville with the intention of becoming a history teacher, but she changed her mind and decided to pursue a career in veterinary medicine enrolling in York Technical Institute's veterinary technician program instead. Read More
---
Juls, Training Coordinator

Adopted: May 2021
Julianne, better known as Juls, joined Patton Veterinary Hospital as one of our surgery technicians in May, 2021. Juls' hometown is Norrisville, MD and she earned her BS degree in biology as a graduate of Bridgewater College, Virginia.
Juls has always had "a passion for caring for animals and their owners," which has grown stronger over the years. Growing up on a farm, she has had many pets and currently resides with seven cats, a bearded dragon, a red eared slider, and two dogs rescued from St. Maarten Island. Juls also has a donkey who is currently living with her grandfather in New York!
Juls has four children and an active lifestyle! She belongs to Barrens Soccer Club and Beachbody Fitness and she loves being outdoors with her family, hiking, sight-seeing and visiting amusement parks. She crossed one item off her bucket list when she had the opportunity to travel to Europe for pre-season college soccer but she aims to add a skydiving experience to her list in the future!
Juls says, "Growing up, I always helped my grandparents out on the farm. Being a Momma of four kids was my first dream come true and sharing my love for pets with my family is my second dream come true. Our pets each have 'their own owner' within our home. Each pet has their own story of how they came to our forever home. [They] know how much they are loved and get spoiled with attention…every day."
Her favorite quote is, "Hear much, say little; Say little, say it well," which seems like wise advice to follow! Juls is a welcome addition to our staff and we are excited to have her as part of our Patton surgery team!
---
Brianna, CVT, Inpatient/Outpatient Technician
Adopted: December 2020
Brianna joined Patton Veterinary Hospital as a technician in December 2020, though she had previously been part of our Animal Care Team from 2016-2017. A graduate of Red Lion High School and Manor College, Brianna lives in Red Lion and has two dogs, Emmitt, a Great Dane mix and Bella a beagle mix, both of which she adopted from the SPCA.
Brianna has always loved animals and had initially wanted to be a veterinarian but changed her mind while working in animal care when she got to see what veterinary technicians do and decided wanted to go to vet tech school.
Reading and listening to music are among Brianna's hobbies and she loves hiking and spending time with her family and pets. She has a desire to visit all fifty states and is off to a good start having been to twenty-three so far!
She says, "I loved working at Patton Vet in high school and learned so much so I knew when I was a tech, I wanted to come back to this hospital." We're so happy that Brianna has chosen to return to Patton Veterinary Hospital and are thrilled to have her as part of the vet tech team!
---
Brandy, Outpatient Technician & Inventory Assistant
Adopted: February 2012
Brandy Brenner joined the PVH nursing staff in February 2012. A graduate of Dover High School, Brandy worked for several years at Valley Green Veterinary Hospital in Etters, and at The Meadows Pet Resort in Strinestown. Although her working life has mainly been spent in animal care, Brandy admits that this was never a conscious decision. She believes that her work in the veterinary field came about naturally.
Read More

---
Angelica, CVT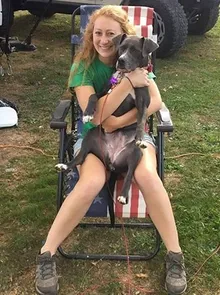 Adopted: December 2019

Get ready to meet the one and only Angelica from Landisville, PA, who's bringing a burst of excitement to the world of veterinary care at Patton! As a Certified Veterinary Technician, she's a powerhouse of support, assisting our incredible veterinarians during appointments with unmatched passion and skill!
But Angelica's not just about her professional life; her personal world is quite awesome as well! She's living life to the fullest with her husband, Zach, by her side. And that's not all - they have an adorable pitbull named Pineapple, who's as sweet as her name suggests! Pineapple is just 5 years old, full of energy, and a bundle of joy in Angelica's life!
But the excitement doesn't end there! Meet Finn, the Netherland Dwarf Rabbit, who's been hopping around for an impressive 9 years! Finn adds a touch of charm to Angelica's life, and their bond is a testament to the magic of companionship.
Life recently took another exhilarating turn as Angelica recently became a mom to a little bundle of happiness, her baby girl named Nina! Angelica's spirit for adventure knows no bounds! She's the queen of the outdoors, soaking up every thrilling moment. From riding dirt bikes to camping under the stars, hiking on rugged trails, and 4-wheelin' in her jeeps, she's always on the lookout for the next adrenaline rush!
Now, let's talk about her ultimate passion - vet medicine! Angelica's eyes light up with excitement when it comes to your beloved pocket pets! Whether it's the delightful guinea pigs, the adorable hamsters, the fluffy rabbits, or the mischievous ferrets, she's devoted to their well-being and happiness. Seeing them thrive and being part of their care is what makes her heart race with joy!
At PVH, we count ourselves incredibly lucky to have Angelica as a cherished member of our team! Her passion, dedication, and love for animals are simply unmatched. Every day with her is an adventure, and her positive energy uplifts everyone around her!
---
Allison, Outpatient Technician
Adopted: April 2021
Say hello to Allison! She joined Patton Veterinary Hospital in April 2021 as our new veterinary assistant. Allison hails from Brogue and is a graduate of Red Lion Area Senior High School. She is currently attending York Technical Institute's veterinary technician program. She has always wanted to work with animals and is very excited to finish school and begin her career as a certified vet tech.
Allison has a Shih Tzu named Spike and she loves hiking and the great outdoors. If she had a free day, she would spend it shopping with friends and visiting Starbucks. Allison also aspires to travel and visiting tropical locales is on her bucket list!
Her personal motto is "Always try to reach your goals, no matter what stands in your way"--good words to live by! Patton is proud to have Allison as part of our team and to provide a stepping stone on her journey to becoming a veterinary technician.
---
Sara, Outpatient Technician

Adopted: May 2021
Sara officially joined the Patton Veterinary hospital as a veterinary technician in May, 2021 after her YTI externship at our hospital. Sara's hometown is Wrightsville and she is a graduate of Eastern York High School and York Technical Institute's veterinary technician program.
Sara chose a career in veterinary medicine because she, "really enjoy[s] science and working with animals." Sara says, "This is something I have wanted to do ever since I was old enough to understand what a career was. Anytime someone asked me what I wanted to be, I would always instantly say, 'veterinary technician'." She chose Patton because she enjoyed her externship with us and likes our fear free approach and separate cat hospital.
Sara enjoys spending time at Crunch Gym as well as spending time with her two ginger cats, Luna and Nala. Sara has an adventurous spirit: If she had a day to do anything she wished, she would spend it exploring a place she'd never been before or doing something she'd never done before like sky-diving or mountain climbing. Sara has crossed horseback riding off her bucket list but hopes to learn SCUBA diving one day!
Her favorite quote is from poet E. E. Cummings—"It takes courage to grow up and become who you really are." In other words, "Don't be afraid to be a 'Fruit Loop' in a bowl of Cheerios." Excellent advice and we are so proud to have Sara as part of the Patton Family!
---
Erica, Outpatient Technician
Adopted: Aug 2021

---
Ashley, Outpatient Technician
Adopted: March 2022

---
Nicole, Surgery & Outpatient Technician
Adopted: March 2010

---
Stephanie, Outpatient Technician
---
Shannon, Outpatient Technician
---
Technician Assistants
Tiffany
---
Hailey
Hailey was hired by PVH in May of 2021 as one of our Animal Care Attendants until she recently moved over to a Tech Assistant Position helping keep the flow of appointments moving! At home, Hailey's surrounded by a menagerie of furry friends! Two adorable rescue dogs, Noah and Kiya, bring boundless joy to her life. And let's not forget about her two charming bunnies, Winston & Wally, hopping around and adding a touch of cuteness to everything! But wait, there's more excitement - a new addition to the pack, a majestic Great Dane puppy named June, who's come to be Hailey's 4-legged BFF!
When Hailey's not busy at PVH, she's a binge-watching wizard, diving into TV-shows like Shameless and going on thrilling TV marathons! But that's not all! Adventure calls her name, and she can't resist the allure of travel, exploring new places, and making memories that will last a lifetime.
Not content with just her own pets, Hailey is the ultimate dog-sitter extraordinaire! Every chance she gets, she's giving love and care to her friends' furry pals, spreading joy wherever she goes. And there's one special human in her life too - her boyfriend, Jason, who joins in on the excitement and fun.
But what truly makes Hailey's heart soar is her work at PVH. In the world of vet medicine, she's living her dream, pouring immense love into the animals under her care. Witnessing them live their best lives fills her with unparalleled joy and fulfillment. And you know what's even more thrilling? The knowledge that every day brings new opportunities to learn, grow, and become an even more exceptional caregiver!
As Hailey embarks on her journey, she leaves us with some of the best advice one could receive: "Don't work so hard to make a living to the point where you forget how to live." It's a reminder to cherish every moment, embrace the joy of life, and let passion and happiness guide the way!